Message center is the number one lead generator on 1stdibs. As 1stdibs is comprised of very high-end, one of a kind items, most buyers want to ask a question before jumping into a purchase. As dealers pride themselves on having a relationship with their customers, Message Center allows for a personal one on one experience so dealers can still create lasting relationships without face to face contact. Over the years, I have led and optimized on the design as we have scael features and enhancements based on the needs of buyers and dealers. Message center capabilities include sending and receiving offers, requesting and sending custom shipping quotes, and requesting and placing holds for individual customers.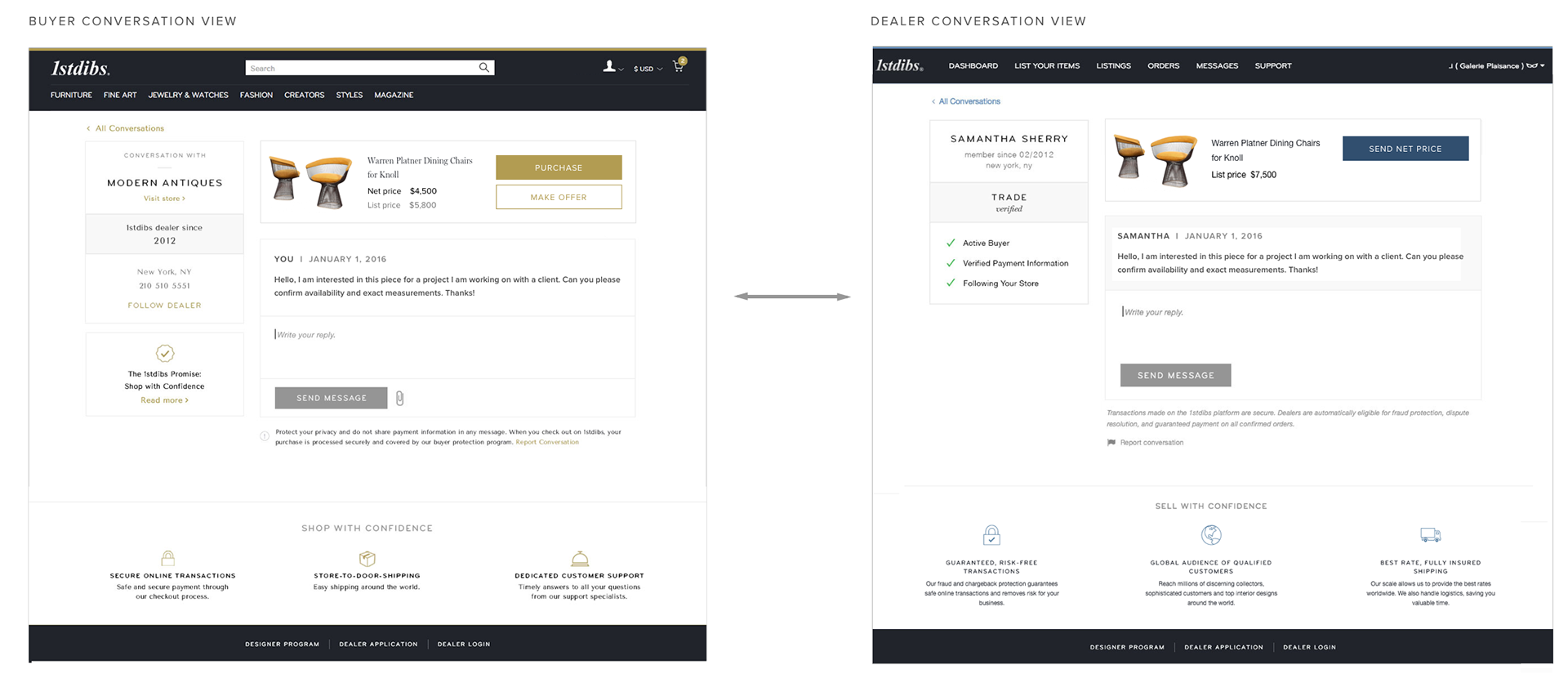 Buyers and dealers are very different user types. One of the consistent design challenges has been designing for opposite users while maintaining shared components and layouts. The type of functionality is different for both the buyer and dealer, however the CTA's and information presented is within the same containers and formatted in an intuitive and simplistic manner.
Reputation Snapshots in Message Center
The Problem:
As a Dealer, I don't know anything about the Buyer who has contact me or submitted an offer. 
The Solution:
By providing the Dealer with context on the Buyer it will demonstrate the added value 1stdibs provides, plus allow a dealer to more effectively close the sale
The Goal:
 Introducing snapshots into Message Center had three primary goals: (1) 
Keep transactions on the 1stdibs platform
, (2) 
increase dealer's response rate
and (3) 
increase the dealer's happiness with 1stdibs
. By showing Buyers and Dealers critical pieces of information about each other, they no longer need to request these details on the side - phone number, business, location etc - and are therefore less likely to be enticed to take a sale off 1stdibs. 
As a dealer I want more information about a buyer who has contacted me or submitted an offer so I can better negotiate with them and eventually close a sale. I want to know how serious a buyer is - ie. how many purchases (if any) they've had, and how engaged they are with my storefront.
As a buyer, I want to know all the relevant contact information as well as their location to best gauge shipping time and cost. I do not want to search off 1stdibs. I want everything to be seamless and easy to find once I have initiated a conversation on 1stdibs. 
Buyer Snapshots Placement in Dealer Experience

Dealer Conversation: Buyer

Snapshot, Dynamic

Buyer Conversation: Dealer Snapshot & Buyer Assurance