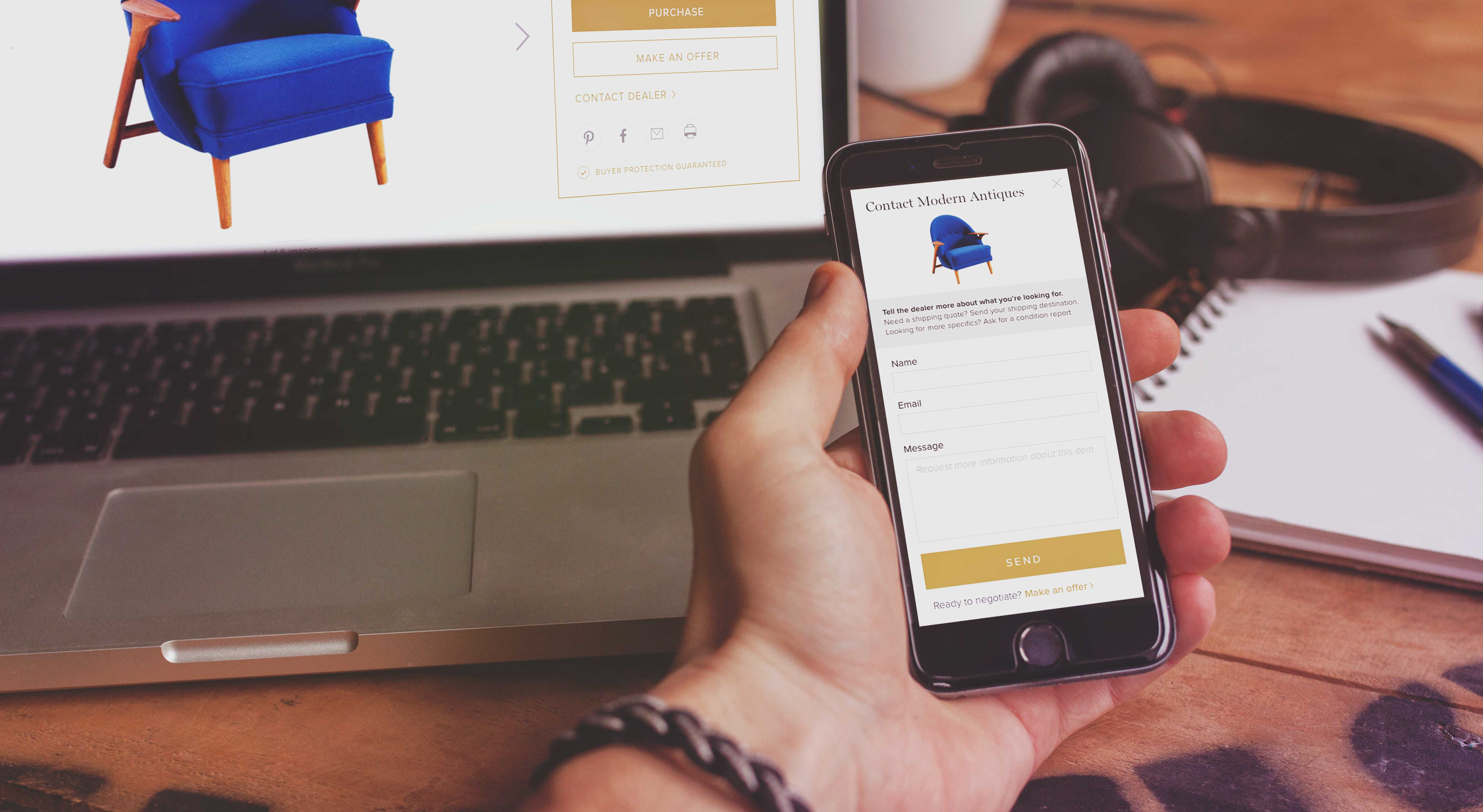 Message Center is a robust, two-sided platform that allows buyers and dealers to converse and negotiate on specific items through 1stdibs. 90% of purchases placed on 1stdibs starts out with a message in Message Center. Message Center is the highest lead generator and revenue driver on the site. I have been the lead designer on the Message Center team for several years and have been a part of seeing it through from MVP launch, to a scaling, multifunctional platform.
Here we will dive into the different features and evolution of Message Center from both a buyer and dealer's standpoint. For some background, a conversation always starts from a buyer through a 'Contact Dealer' form - either from a product listing page or a dealer's storefront. Therefore, the initial 'Contact Dealer' form is key piece to the entire Message Center product. The biggest challenge to this form is not only getting a user to click into the modal, but to fully submit and successfully send a message. We're constantly looking at registered user submission rates as well as new users. New users often pose the biggest hurdle when it comes to submission because they're required to register for an account in addition to sending a message.
Requesting Net Price Journey

Throughout the evolution of contacting a dealer, several key features have been integrated into the experience. Features such as: requesting a hold on an item, asking for unique shipping costs, and requesting net/special prices - all of which have brought significant return to 1stdibs.
The form is dynamic depending on the user type and the state of the item. Through analytic findings the layout of the form is continually being iterated on in order to produce the best results.

Guided Messaging Interactions
Often there are several variations of the form being tested and experimented with. Often  often run quick usability tests by surfacing more context to the user to help guide them to the details they want to ask about. Through research, it is clear that buyers are often not sure where to start or how to ask a question.
Requesting a Shipping Quote
Approx. 50% of items on 1stdibs do not have shipping cost up front, largely due to being a global marketplace and the inventory is very fragile and high-end. Requesting a shipping quote allows a buyer to ask a dealer in a structured way for a shipping cost which can be applied to their item at check out. Prior to this, a buyer would have to check out on an item and then accept or decline the shipping cost once a quote is established (post purchase). 

All of this again lives in Message Center.