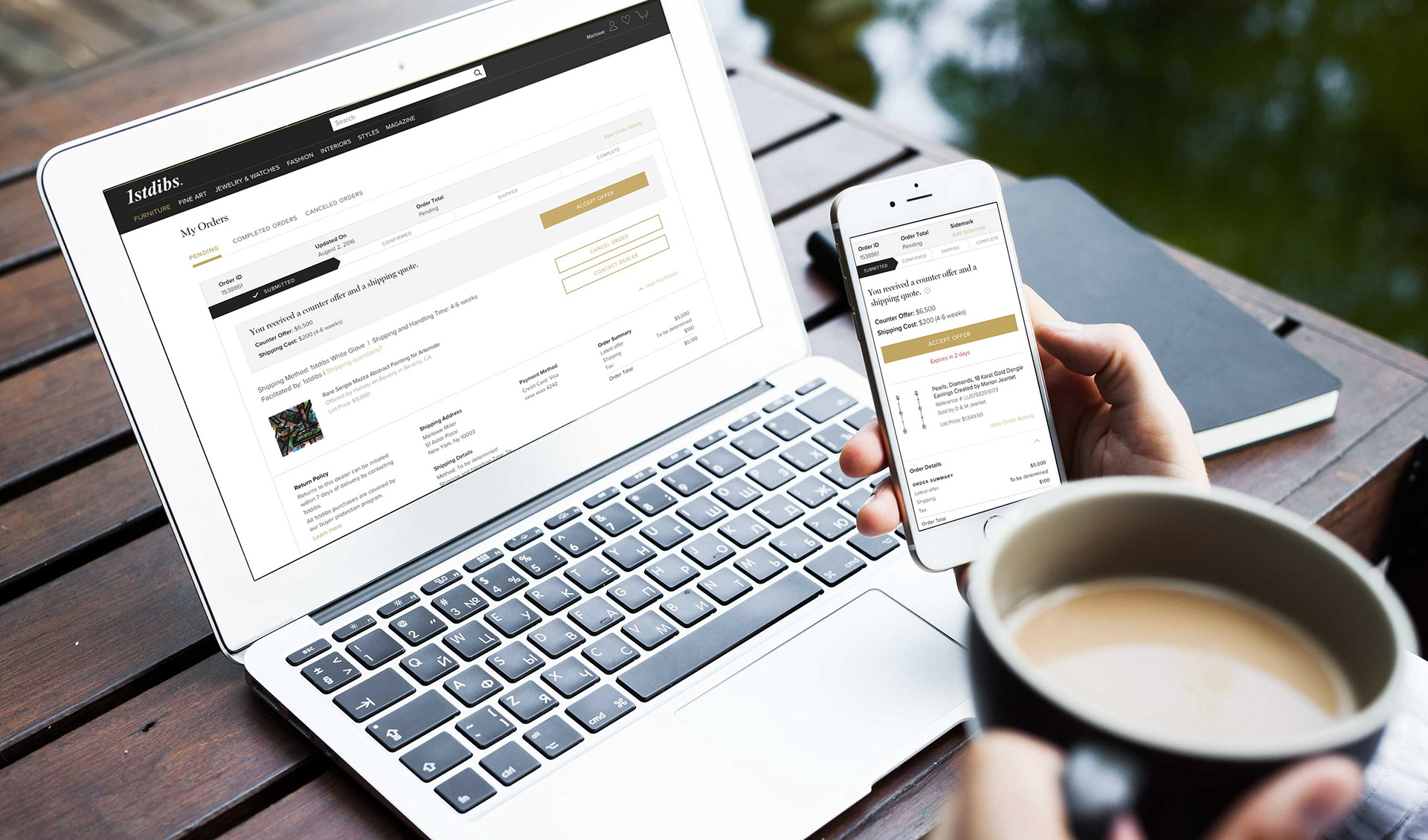 The Problem
Aside from a long delivery time, the most common negative NPS feedback from buyers is around the

lack of transparency into 1stdibs' shipping process and what is the latest status of their shipment.
The Goal


We want to address the problem by bringing additional tracking information onto our platform through third party integrations, and

improve how shipping and order information is presented and interpreted by buyers on our platform.
NPS # 968882
"The period between purchase and packing and pickup is pretty nebulous. I think there should be more involvement from 1st Dibs to make that process quicker and more transparent."
NPS #1497033
"[Fix one thing:] The process from the order acceptance until delivery. Very vague - dealer was confused, I was confused, customer support wasn't clear. eBay has far better buyer visibility into fulfillment."
Kicking it off with research: Interviews and Workshop
Interviews consisted of six people across internal teams from Shipping, Trade, PCS, Marketplace Support and Account Management. Each participant walked through their typical process of managing orders and customers needs, while identifying pain points through their journey from their perspective and the buyer and/or dealer.
Over and over, participants expressed concern and anxiety around the
lack of transparency into the order process
, and
confusion from the cluttered interface
which negatively impacts retention.
After just a couple interviews, it was very clear the problems that needed to be addressed. But the question was - where do we start? At this time, we organized a workshop consisting of 24 people across 1stdibs - from internal, to buyer and dealer facing teams. With all this knowledge and post-its in one room, we were bound to takeaway good insight and material. 
The structure consisted of teams of 6, all with a different use case to keep in mind as they moved through the flow. Participants let their voices be heard regarding user needs and pain points through the entirety of an order journey.

And all stages and possible use cases that an order will go through, in association with the order's journey...

Workshop documentation of a user's overall experience throughout each stage of an order's journey, from checkout to complete
Audit of the *then* existing Buyer Order Manager
Alongside interviews and workshopping, an audit of the existing platform experience was necessary. I dove in and tested all the user flows from the buyer and sellers side, to get the full experience and now fully understand the pain points highlighted from our user sessions. Below is just a 'taste' of the different screens and scenarios.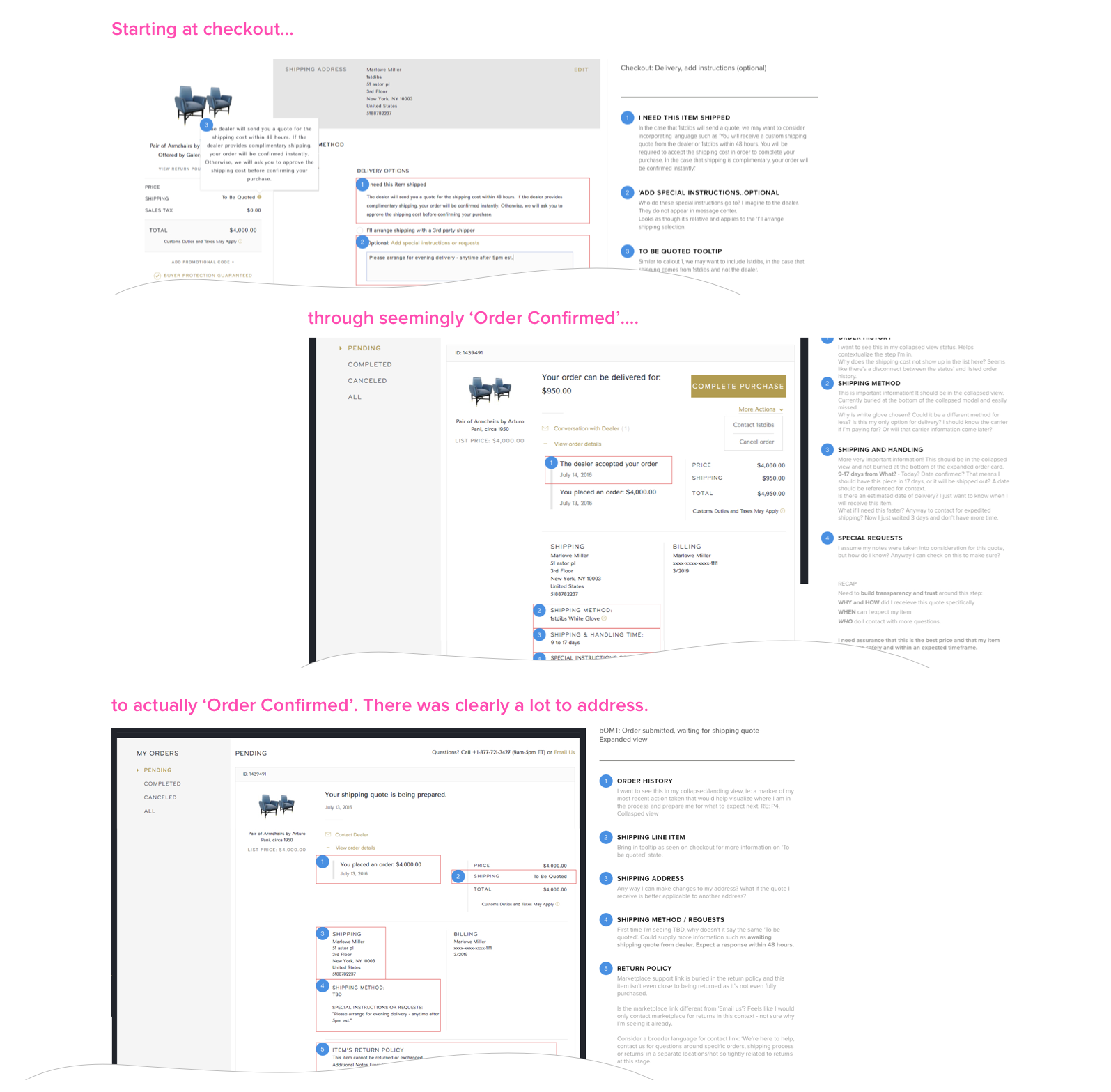 Key Findings from Research
In summary,
buyers are consistently frustrated and confused by an unclear interface
as well as a lack of information hierarchy and grouping of relevant information.
Shipping information is hard to find
and they are overall
unsure of who to contact with questions and support
. Anxiety ensues when there is
no information into the status
of a purchase, as well as
lack of general timeframe of next steps
, estimated delivery date, etc.
Moving Forward, Establishing the Design Goals
Block diagram of the design needs, highlighting the static vs dynamic information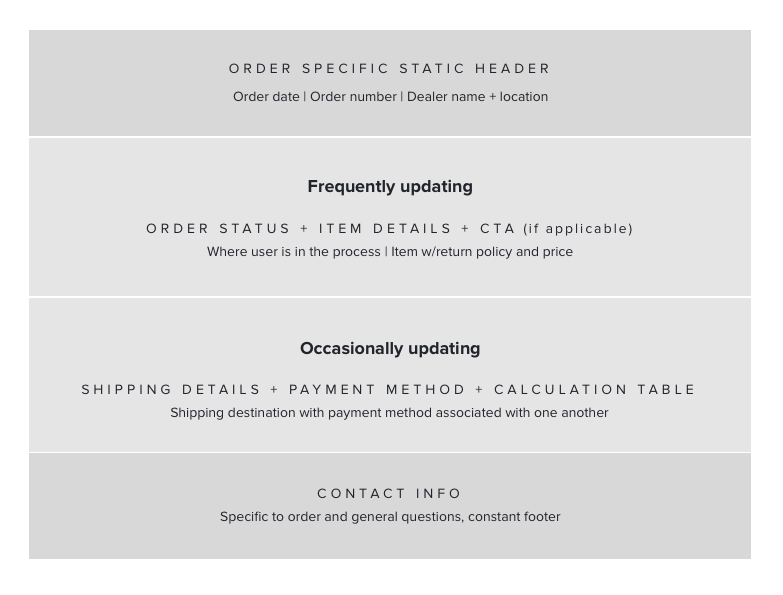 Once everything was compiled and stack ranked in order of importance,
it was time to get into design.
The primary goals included:
reorganize hierarchy of information
, including shipping details and order status'; 
educate and orient the buyer
by introducing relevant context throughout the user's experience, ie: what happens next, during the order process and once shipping has begun. And finally, incorporate
persistent and relevant support
- Who to contact and when throughout the entire experience, ex: 1stdibs shipping > Contact 1stdibs.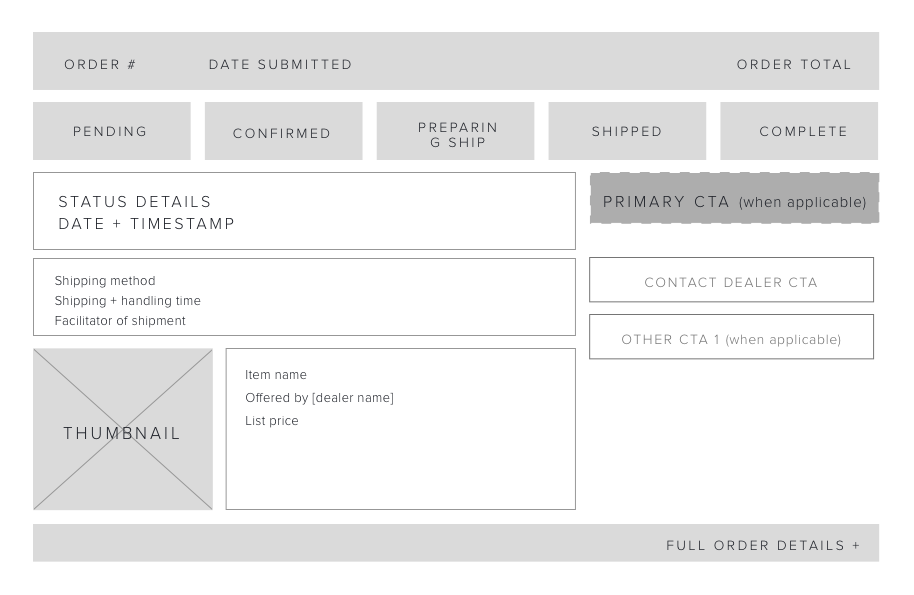 Navigation changed from vertical to horizontal layout. 
Horizontal tabs are easy and seamless to navigate in and out of, specifically because the average amount of 'active' orders is very low we do not need to have many buckets for organization. Moving to the horizontal layout gives us more space to use for necessary item information.
Visual timeline.
 indicating the progress of an order by giving context into the current stage of an order and what to expect next. Because an order is not confirmed immediately after checkout, there is confusion around when to expect what next.
Enhanced and contextual action required state
. The action required state means that the buyer has a pending action they must take in order to complete their purchase. In order to complete the purchase a buyer must respond in their order manager. This state is different to call attention to the task at hand, vs. other states there is nothing required from the buyer. 
Chose the most complicated flow from a buyer's perspective: when a buyer makes an offer and requests a shipping quote at check. This way we could identify all the different scenarios, order states, and associating status and calls to actions.