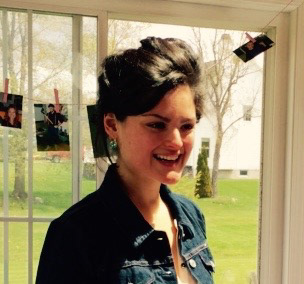 Hi there - and thanks for stopping by!
I'm Marlowe - a well-rounded, strategic thinking, UI / UX / Product designer with over 8 years of digital design experience. I always design with the user first and enjoy producing solutions that matter in an engaging and useful way. I'm all about research and collaboration before jumping into anything final. I love tackling complex problems and seeing things through from end to end. Transforming complicated user journeys into beautiful and usable experiences is always rewarding and exciting to me.
Aside from being a passionate designer, I love any round dogs with a flat face, trying out the 'next best' class on ClassPass, and finding the local spots wherever I am.
A little background about me and how I got to where I am today...
After I graduated from Northeastern University with a degree in Graphic Design, I was on a mission to travel the world to learn more and expand my horizons - not just in the work place, but also on a cultural level. This brought me to India. I got a contract job at an IT company in Pune, Maharashtra. There, I took on responsibility of redesigning landing pages and email templates; to documenting interaction and user journeys for mobile games; to taking on the role of a consultant advising the best design approach for their North American clients.
When my most amazing Indian year came to a close, I wasn't quite ready to move 'home' yet. I had made such strong connections with the Indian tech team that I felt they could be a great asset for my next adventure: Dkorr. Dkorr was a startup based out of Odense, Denmark that specialized in Scandinavian inspired goods and lifestlye, ie. healthy, sustainable, functional living. We all know how the Danes have been voted the 'Happiest people on Earth', so why not bring that home to the U.S.
I don't want to give away too much here (would rather be chatting in person over coffee), but as you can imagine like any small startup, I learned to wear 'many hats' and assume responsibility in all areas of the business that touch design (ie. everywhere), UX and UI related.
Eventually, Dkorr pivoted to MODaffekt where I managed several designers and interns out of Wework in NYC. On the side I kept up freelancing, and then I started at 1stdibs - which brings me where I am today.
1stdibs: The '

eBay for the 1%

' - a global, two-sided marketplace that sells very rare, high-end, luxury goods spanning from furniture to fashion. What I love about 1stdibs is that it is not your average ecommerce site. There is the constant challenge of designing for two completely different sets of users: buyers and dealers. Over my years, I have worked across all areas of the platfrom from buyer facing (what you're seeing on .com), to dealer tools - creating an increasingly more seamless and scalable experience to better connect with buyers.
And that's me in a

very small

nutshell. I enjoy meeting new people and learning more about what's out there. Reach out - even it's just to say hi.